Multiview ERP Client: Faulkton Area Medical Center
"I can't imagine any software company providing any better support. They're fabulous. Patient, available, prompt, professional. And it's been that way from the beginning."
Susan Miller, Chief Financial Officer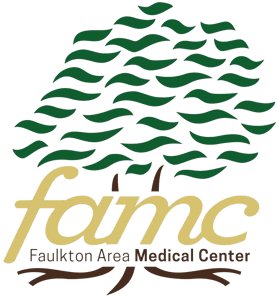 Overview
The Faulkton Area Medical Center (FAMC) is a 12-bed critical access hospital in Faulk County, South Dakota. Along with the attached rural health clinic, it services a population of 2,600 in Faulkton and the surrounding county. In a typical week, 175 people will visit the clinic, the ER will treat 10 to 15, and the hospital will admit somewhere between one and 10 inpatients and swing-bed patients. The next closest medical facility is 45 miles away, so the FAMC is an important part of life in Faulkton, not to mention the biggest employer in town.
Susan Miller is the FAMC's Chief Financial Officer. An accounting army of one, because "we don't really need anybody else," Miller handles all the financials for the FAMC. She first encountered Multiview in 2018, when the FAMC decided to replace their electronic health record (EHR) system with something more robust. The rest of the health center made the transition to Cerner, but over in the accounting department, Miller needed a financial package that would play nicely with the new EHR. She needed a product that would seamlessly integrate the very different approaches of clinical records and financial data. Cerner pointed her to Multiview.
Location: Faulkton, South Dakota
Who They Are: A rural critical access hospital with attached health clinic, providing a range of medical services and programs to Faulkton and the surrounding county
Number of Finance Employees: 1
What Triggered Multiview: Medical center updated their EHR system and needed financial package that could integrate with it
Significant Outcomes: Smooth transition due to Multiview collaborative preplanning and ongoing responsive customer service; seamless integration with EHR for single source of truth; easier data access and manipulation
"They're professional, they're courteous, they're knowledgeable, they listen, they answer. And if they can't answer, they tell me when they will. I would give them 10 out of 10."
Susan Miller, Chief Financial Officer
Taking the Plunge
On Cerner's recommendation, Miller took the plunge. "Change is always tough," she says, "but as long as the end goal is something I understand, I'm good." Bearing the sole responsibility for a successful transition was a little nerve-wracking, but she took it in stride. "There are just stressors when you're changing from old hat to new hat."
Fortunately, Miller was able to turn to Multiview for help. Together, they did a lot of talking and planning to prepare for the implementation. "I felt like they really understood what my goals were and how we could make the transition without losing something," she says, referring to her main concern. Her hospital serves a large Medicare population, and knowing that Medicare audits go back three years, she didn't want to lose any of that data.
A Smooth Transition
Miller found the changeover easier than she thought it would be. Being a more robust system, Multiview was more complex than her previous ERP. But, Miller says, "Most of it is just really easy to figure out." The various components of the suite, such as the general ledger, accounts payable, etc., all work the same way and have the same user interface. "So, once you've figured out what you're looking for in one area, the same rules apply to the others."
When asked how Multiview has changed day-to-day operations for her, Miller says the pivot reports that she can do now within the Multiview platform, searching by type of charge, adjustment, and transaction, are really helpful. "The searching and the sorting of data is really fabulous. It's just really simple to find out what were, say, the self-pay adjustments in March. You just ask for March and the accounts in the RAD (related accounting data), and there they are, line by line with the entry number."
Client Obsessed
Nevertheless, Miller keeps coming back to the service. "I can't say enough about the training and the support. They're fabulous, just fabulous people. Patient, available, prompt, and professional. Someone's always available. And if they can't answer my question or fix my problem with that call, they tell me when they will. And it's been that way from the beginning."
This kind of response isn't always the case with other vendors. "I've been in this position for quite a few years," she explains. "I have used two or three different payroll software programs. I have used multiple renditions of other financial software and nobody—anywhere—gets back to you the same day, let alone within 10 minutes."
Miller finds this all the more amazing because of the size of the FAMC. "We're small. We're not the squeaky wheel. I've become accustomed over the years to just not being important. And so, I'm always so pleasantly surprised with the support."