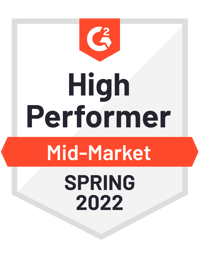 Ottawa, Ontario – March 22, 2022 – Multiview Financial, a leader in health care technology and accounting automation, today announced their inclusion in G2's Spring 2022 ERP Grid Report.
"We are beyond excited to be recognized as a High Performer in this Spring's ERP report," says Multiview CEO Michael Johnson. "We are client obsessed, and our success is measured ultimately by the success of our clients. Our commitment to customer success and satisfaction is reflected in the reviews – that's why we have a 4.9 out of 5 star rating." Multiview is proactively working to ensure our clients' finance operations are as efficient and reliable as possible. We are committed to working alongside our clients to ensure they are operating as efficiently as possible and with as much data liquidity as available with technologies of today, while we continue to build the technologies of tomorrow."
Multiview's ERP satisfaction review ratings on G2 are an average 15% higher than the category average, with their Net Promoter Score (NPS), coming in the second highest out of 70+ ERP companies rated.
Read G2's Spring ERP Grid report here.
About G2
G2 is the world's largest and most trusted software marketplace, helping more than 60 million people every year make smarter software decisions based on authentic peer reviews. Thousands of companies partner with G2 to build their reputation, manage their software spend, and grow their business — including Salesforce, Hubspot, Zoom, Adobe, and more.
To support its mission to become "the place for software," the company has raised over $250M in funding from IVP, Accel Partners, Permira, Emergence Capital, Pritzker Group, Chicago Ventures, Hyde Park Ventures, and industry leaders and founders, which includes our Series D round of $157M. Founded and headquartered in Chicago, the company now has a valuation of over $1.1B and operates globally with offices in London, Bangalore, and Singapore.
About Multiview Financial
Multiview Financial provides powerful, easy-to-use financial applications to enterprises of any size for accounting and financial planning. For over 30 years, Multiview Financial has driven successful client outcomes with a scalable ERP solution by partnering with clients to break down data silos, automate accounting processes, and provide more access to information through industry leading dynamic reporting solutions. Clients vary in size from small businesses to Fortune 500 companies and operate across more than 40 industries.
##
For more information please contact:
Dawn Mallyon
VP Marketing
Multiview Financial
Dawn.mallyon@multiviewcorp.com
www.multiviewcorp.com