Healthcare information technology is predicted to reach a value of $511 billion by 2027. Healthcare software is becoming even more prevalent and important as the COVID-19 pandemic continues. With healthcare IT becoming dominant in the healthcare industry, it is important for administrators to know the different options available and how they can assist in operations.
This piece will guide you to understanding the type of software necessary for your healthcare office, including differences between EMR, EHR and ERP software.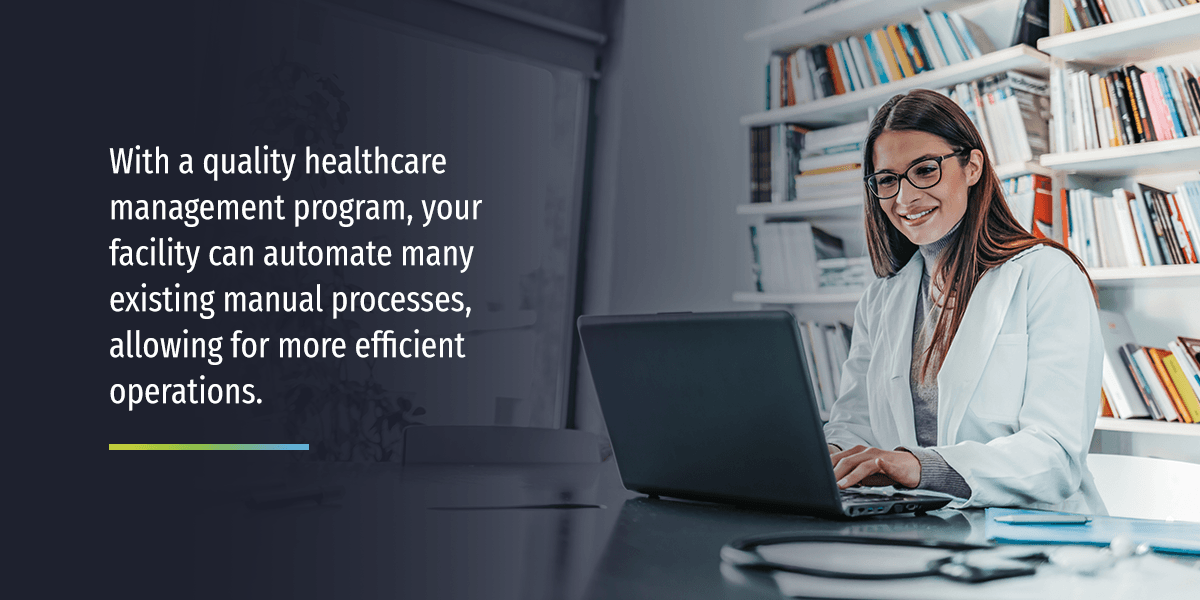 Healthcare Management Software
Healthcare management software (HMS) is integrated software medical offices and facilities can use to manage all aspects of day-to-day operations, such as:
Patient registration and information.
Member enrollment benefits tracking and claims.
Online patient health portals.
Payroll and inventory management.
Supply chain insights.
Scheduling and staff information.
Facility-wide and department-specific tracking.
Medical equipment management and status tracking.
Healthcare management software aims to improve the working process and the overall quality of service to patients. Some management programs are designed to manage medical equipment while others have more administrative uses, but they share a common goal. No matter the application, this type of software is built to reduce human error in processes and provide an upgraded level of patient care.
With a quality healthcare management program, your facility can automate many existing manual processes, allowing for more efficient operations. Healthcare providers have time and resources to better focus their efforts on patient care. This type of software can also assist in effective online communication between patients and doctors.
Healthcare management software systems are especially beneficial for a healthcare organization's accounting department. Any establishment is due to have holes in their budget at some point that inflates expenses. Process automation ensures this happens less often, decreasing unexpected expenses. An HMS system keeps track of all purchases and gives real-time information as the expense is incurred, allowing the accounting department to have greater control over finances.
EMR vs. EHR Software
Electronic health records (EHR) and electronic medical records (EMR) center around storing and documenting patients' medical information online.
What Is EMR Software?
EMRs were created first and originally began as a means to save time and eliminate errors when manually charting patient information. However, with EMRs, patient information was only available in the office they visited. If the patient switched clinics, their information wouldn't follow them.
What Is EHR Software?
Electronic health records were created to allow for patient data to be shared between healthcare facilities. EHR software is now the most popular type of software used by medical facilities. EHR software comes with several capabilities that work to optimize patients' records. A significant feature includes organizing patients' files chronologically.
The overall goal of these technologies is to safely and securely store medical data. While ensuring the preservation of important medical documents, EMRs and EHRs save health facilities money by saving space and storing files digitally.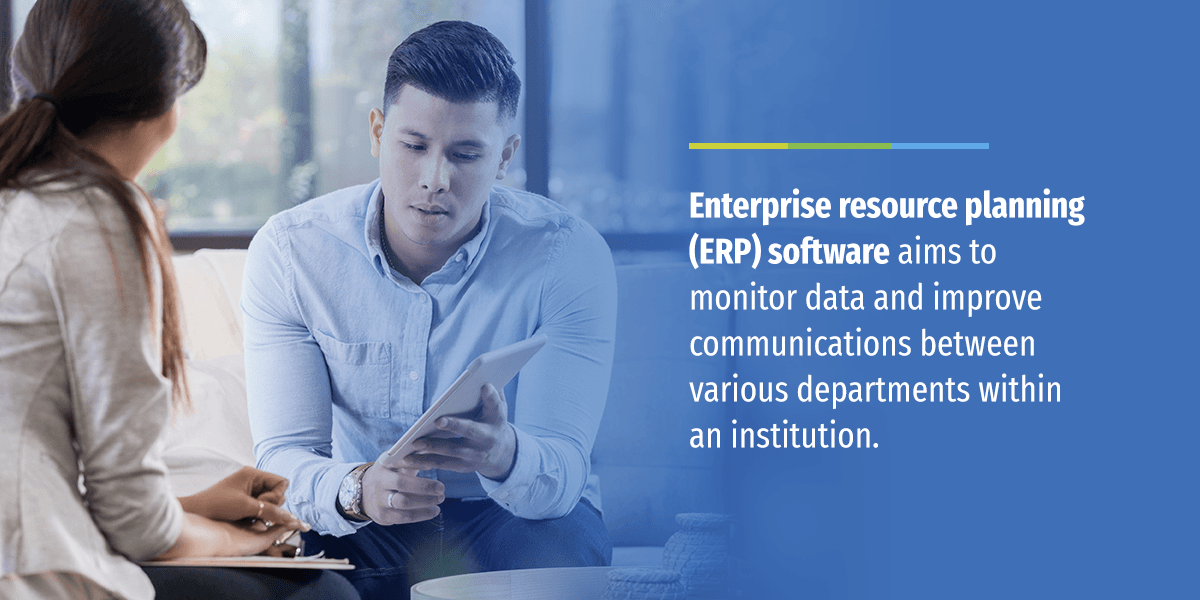 ERP vs. Healthcare Management Software
Enterprise resource planning (ERP) software aims to monitor data and improve communications between various departments within an institution. Healthcare organizations have a lot of incentives to implement ERP software.
Some of the benefits of implementing ERP solutions are:
Simplified practices: Adopting best practices is made simple. With ERP software, healthcare facilities can expertly manage policies regarding enrollment, member benefits, claims and provider networks. This makes it easier for professionals to keep up with best practices and thus maintain their patients' trust.
Better overall patient care: Implementing ERP solutions allows patients to have remote access to their medical data. The accessibility of information helps patients make more informed decisions regarding their treatments.
Reduced operational costs: ERP technology combines different organizational areas such as finance, human resources and account management into one database. It optimizes behind-the-scenes operations, such as payroll and inventory management. With the added efficiencies, administrators can worry less about errors and the costs associated with them.
ERP software is common outside of the healthcare industry — any organization that wants to improve cross-department communication and get better business insights — while EHR and EMR software are more specific to medical facilities.
What Healthcare Software Do I Need?
Deciding which healthcare software to integrate into your practice's operations can be challenging. In truth, it is likely to be most beneficial to integrate multiple software programs into your daily functions. The most common combination of healthcare software within medical facilities is EHR and ERP.
The benefits of integrating EHR with ERP:
Cleaner data for both systems: Currently, clinical systems rely on the data coming from supply chain systems to drive essential insights. There's no clear strategy for deciding what data needs to be imported and exported. By integrating the two systems, you can develop cleaner data for better decision-making both clinically and financially.
Improved operational metrics: Both systems typically offer their own business intelligence software. To provide useful metrics and make meaningful conclusions about a medical site, it is most effective when both intelligence engines are working together and seeing the same data across the organization. With better operational metrics, there's an enhanced ability to make informed decisions from having the full story of performance.
Improved cycle performance: Integrating EHR with ERP together improves performance cycles such as claim-to-payment. These improvements usually result in greater cash flow and reduced costs. Patient information can be managed even more efficiently.
Enhanced patient service: Customer Relationship Management (CRM) generates more income opportunities and enhances patient service. More satisfied patients mean a better HCAHPS score which ultimately results in better Medicare reimbursement.
Better financial control: Because the information is centralized, you can perform more detailed analyses, and finances become more transparent throughout the organization, which leads to even better financial management and planning in the long term.
---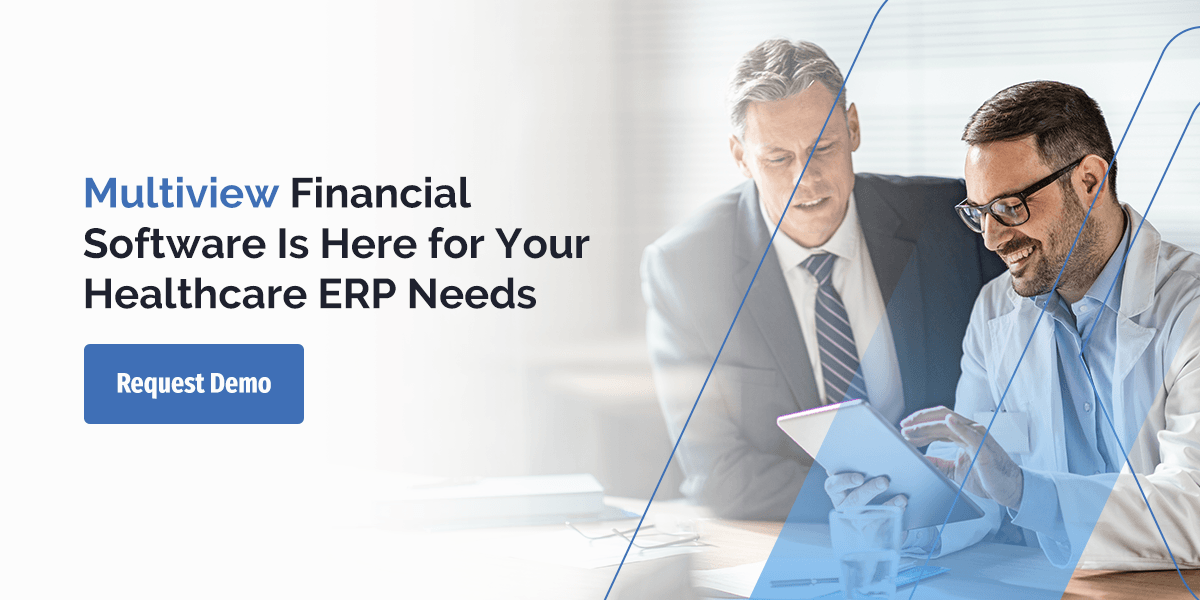 Multiview Financial Software Is Here for Your Healthcare ERP Needs
At Multiview, it all starts with the genuine care of people. We offer ERP software solutions that help facilitate quality patient care in your healthcare organization. However, we understand that healthcare organizations face challenges beyond delivering excellent patient care. Multiview ERP solutions provide a seamless, real-time, accurate view of your organization's health, growth and needs that will ultimately help you grow your business' efficiencies. Request your Multiview Cloud ERP demo today or call 1-800-645-1910 to speak to a member of our expert team.