If your healthcare organization has outgrown your basic accounting software and you're looking for more functionality and integration with other systems, you may want to find an ERP specific to hospitals and other healthcare organizations. This guide will help you understand how to choose the best healthcare ERP for your organization.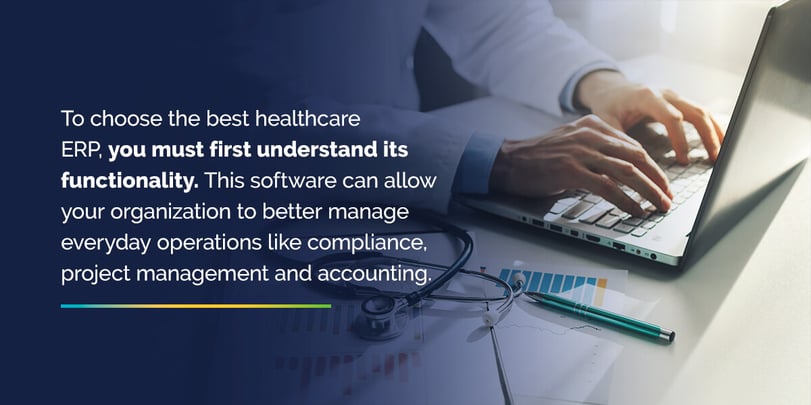 What Is A Healthcare ERP?
Enterprise resource planning is a business management software that integrates applications across an organization's departments. To choose the best healthcare ERP, you must first understand its functionality. This software can allow your organization to better manage everyday operations like compliance, project management and accounting. An ERP will undergo continuous updates to offer real-time data to everyone in your organization who accesses it.
While you can find general ERPs for various industries, such as nonprofits, education and financial services, you'll want to select one designed specifically for healthcare. With a healthcare ERP, the various departments of your hospital can integrate their core services, back-office operations and support services.
ERP Product and Vendor Considerations For Healthcare Organizations
If you want to know how to select a healthcare ERP, use some considerations about the product and vendor to make your decision.
Costs:

One of the first factors when choosing an ERP system is the cost. The expenses associated with an ERP include the system itself, its implementation and any additional resources your healthcare organization. Of course, make sure you consider the cost versus the value.

The future:

When selecting your ERP, you should think about your organization's present and future needs. How often will you make software upgrades? What challenges will you face when integrating an ERP with potential new software or hardware? Remember, your ERP may need to scale as your company grows, so ensure you choose one that can do so.

Integrations:

You also want to consider how well an ERP will integrate with the other software your organization uses. Even the most advanced ERP won't help your healthcare organization if you cannot send and receive data to your organization's other software platforms. Most ERP buyers are looking for a way to improve data integration across different business processes, so this may be an essential consideration for you.

Implementation process:

Consider the implementation process, too. Some systems are time-consuming, challenging and require extensive employee training. The ERP you select should be easier for your employees to understand and master, and you should check whether the vendor offers implementation support.

Software features and functionalities:

Of course, you need to consider whether an ERP includes the features your organization needs. Most ERPs have the modules general businesses need, but the best ERP for healthcare organizations will have features specific to the industry. For example, if your organization wants to prioritize financial services, you want an ERP with accounting features like accounts payable, accounts receivable and general ledger.
Industry-Specific Considerations For Hospitals & Health Systems
Healthcare is a complicated business sector that involves balancing patient care with government regulations. This delicate process requires thoughtful management via a reliable ERP specific to the healthcare industry. Today, with emerging technologies, an aging population and uncertainty about affordability, it's more critical than ever to implement an effective ERP into your healthcare organization.
1. HIPAA Compliance
Not only is protecting your patients' privacy the right thing to do, but it's also a regulatory requirement. Under the Health Insurance Portability and Accountability Act, health providers that neglect to provide privacy protection may face significant fines and penalties. Along with maintaining privacy, your organization should be diligent about keeping patient medical records secure. Your healthcare management system must include audit trail capabilities that regularly track and produce compliance records.
2. EMR or EHR Integration
Since the EMR or EHR software documents your patients' visits and medical history, the ERP you choose should integrate seamlessly with your electronic medical records software and the electronic health record. The right ERP for your healthcare organization can coordinate with the EMR or EHR of your choice.
3. Vendor and Team's Industry Expertise
When choosing an ERP for your organization, you'll want to consider the ERP vendor's reputation. The company should have a long track record of dependability, quality and experience in the healthcare industry. Look for online reviews to learn more about what a vendor is like to work with.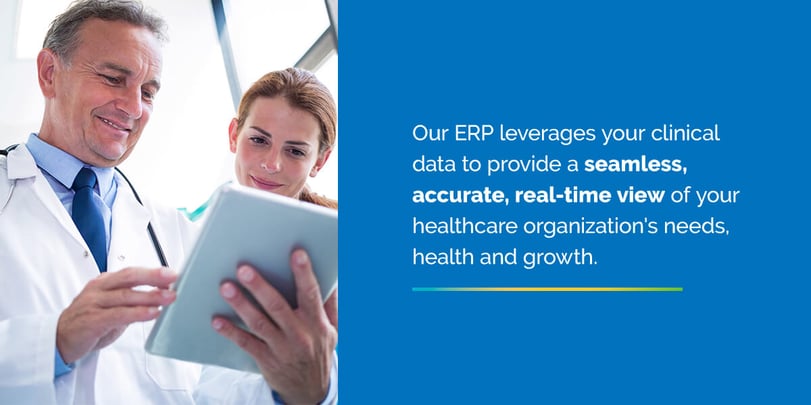 What Is the Best ERP for Healthcare?
Multiview offers the best ERP for hospitals and healthcare organizations. We developed our ERP technology with a focus on healthcare, making it an excellent choice for health systems, hospitals and clinics. Our ERP leverages your clinical data to provide a seamless, accurate, real-time view of your healthcare organization's needs, health and growth. Enjoy a user-friendly, intuitive solution with our healthcare accounting software.
We support more than 250 health systems across 50 states. Our clients use our ERP to leverage their information daily to focus on communities, drive outcomes and work toward growth. Use our ERP for:
Budgeting

Forecasting

Managing documents

Improving workflows

Statistical tracking and reporting

Financial reporting

KPI dashboards
By gaining valuable business insights with our ERP, you can make more informed decisions. Our experience as former hospital CFOs, revenue cycle staff and business office directors has allowed us to develop a consultative approach and offer guidance, best practices and a custom software solution to deliver the best possible results for each of our clients.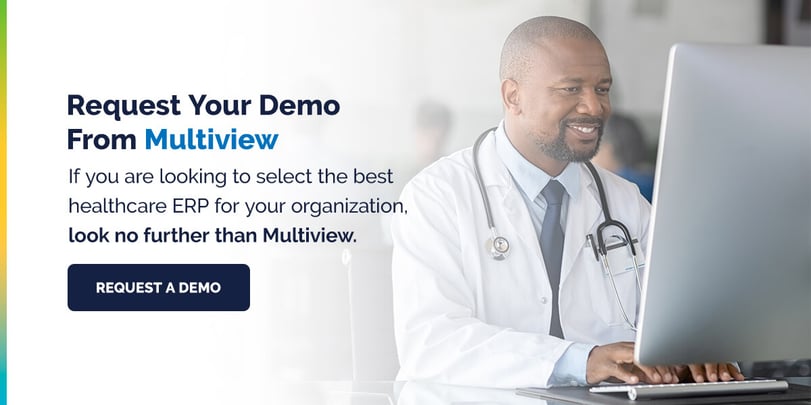 Request Your Demo From Multiview
If you are looking to select the best healthcare ERP for your organization, look no further than Multiview. At Multiview, we operate under five core values – we're a people-first, client-obsessed company that believes in the strength of our community and in challenging ourselves and working smart. We are constantly seeking new challenges and evaluating how we do things so we can better serve our clients.
For almost three decades, we have been proudly advancing back-office and corporate finance operations so our clients can dedicate more time to focusing on their businesses. A CFO, controller or accountant is at the heart of data trust in every organization, and if you are seeking an ERP for your healthcare organization, request a demo today.