If your business has recently decided to implement a new enterprise resource planning (ERP) system, that's excellent news. You'll gain sophisticated software that integrates and streamlines business processes across your organization, so you'll make accounting and other operations more efficient.
ERP implementation can be complex and challenging, though, so you'll need to spend time preparing for the process. This guide will walk you through some guidelines for ERP software planning and implementation and give you some ERP implementation best practices to follow for optimal results.
ERP Implementation Process
ERP implementation often requires extensive planning, training and support for the best results. Here are the typical steps to take to implement an ERP system: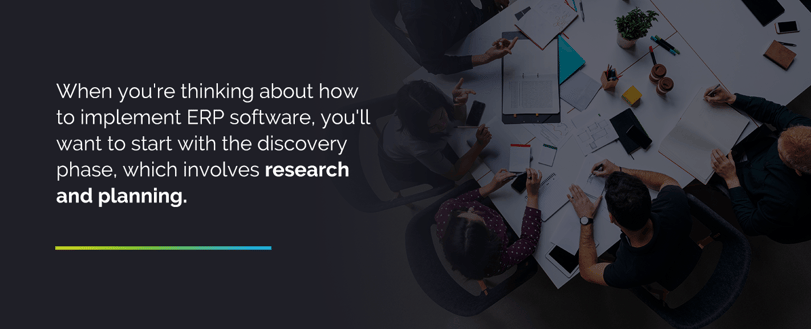 1. Discovery and Approval
When you're thinking about how to implement ERP software, you'll want to start with the discovery phase, which involves research and planning. Start by designating an ERP discovery team consisting of members across various departments, such as accountants, IT professionals and senior management members. They can help determine what features their teams need in an ERP and gather those preferences into a cohesive list of system requirements.
The team assigned to discovery will then research and evaluate ERP systems to see how well they meet the company's goals. It should also lay out a timeline for completion and ensure an allocation of adequate resources for purchase and implementation. The process often includes steps like these:
Making a list of vendors.
Seeking proposals
Requesting demos.
Trying out various ERP functionalities firsthand.
Once the team has identified the ERP system it wishes to implement, it will need to gain approval from the appropriate authority within the company, such as the chief financial officer (CFO). This person will need to know the implementation costs, risks, timeline and anticipated benefits.
2. Planning
One of the most critical steps for effective ERP implementation is planning. The planning stage involves strategizing about how to manage ERP implementation successfully. It often includes finalizing the contract with the ERP provider and planning any infrastructure upgrades the ERP software may require, such as faster internet service, expanded storage capacity or enhanced communications.
This stage may also include designing new workflows that take advantage of the ERP system's capabilities. The planning team should obtain feedback from employees who will use the ERP and consider their opinions about the ERP system's potential effects on day-to-day operations.
3. Testing and Configuration
As you're thinking about how to successfully implement an ERP system, be sure to devote time to testing and configuration.
You'll want to configure the ERP software for the best fit with your redesigned processes, as well as for seamless integration with other systems it will complement. You'll also need to migrate your old data into the new system. The vendor or integration partner may be able to offer valuable assistance here.
Once you've configured your new ERP system, you'll also need to test it before you roll it out across your entire company. Assess specific modules and features, adjust your configuration if necessary, and retest until you've achieved the desired results. Start by testing basic functions and proceed through evaluating full system capabilities until you're satisfied you've attained optimal performance.
4. Training
At this point, your ERP software is ready to go. Still, you can't deploy it across your organization just yet. You'll need to provide training sessions to help your employees become confident with using the new system.
Your vendor's ERP implementation team often serves as a valuable training partner, providing resources and, in some cases leading training sessions directly. You may also have created training tools during the development phase as you learned about specific ERP capabilities in detail. You can use those to clarify how your employees will use the new ERP system to streamline their workflows.
5. Deployment
Once your employees have gone through training and become comfortable using the software, it's time to let your new system go live companywide. You may choose to deploy only a few critical modules at first, get them running smoothly and then move on to the rest. Or you might deploy the whole system at once to take advantage of its many stellar functionalities right away.
Even the best ERP software implementation methodologies may require you to tinker a bit before getting your system running smoothly. Even with extensive pre-deployment testing, an ERP system contains many moving parts, and you'll need to be patient as your team resolves any lingering issues.
6. Support and Stabilization
The ERP software implementation process also requires a commitment to support and stabilization in the days and weeks following your deployment. Your company may experience a few minor delays and hiccups as your employees get used to using this powerful new tool. These disruptions will likely be minimal, and you'll more than make up for them with the performance and efficiency boost your ERP system provides.
Support and stabilization processes often involve adjusting the ERP software's operations according to user feedback and reconfiguring slightly as you bring new features online. You'll also need to troubleshoot issues quickly as they arise.
ERP Implementation Challenges and How to Overcome Them
ERP implementation is well worth the challenge — and it does come with a few challenges to solve at first. Here are a few common issues in the ERP implementation process and some ideas for handling them: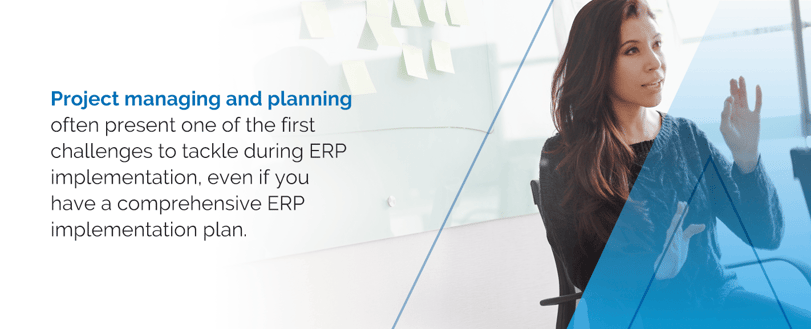 1. Project Management and Planning
Project managing and planning often present one of the first challenges to tackle during ERP implementation, even if you have a comprehensive ERP implementation plan. Many teams championing ERP implementation struggle to convince major players in the company to commit the necessary time and monetary backing to the project. Some groups also struggle with getting stakeholders to commit to a firm project timeline.
One helpful strategy is to target a specific executive sponsor like the CEO or CFO — ideally, someone who finds the idea of a new ERP appealing. This person likely has the organizational capital necessary to convince others and secure funding. As for timeline issues, start by communicating honestly about what timeframes seem realistic. Staking out a longer, more feasible timeline is often more effective than creating an ambitious plan few of your coworkers can commit to.
2. Data Migration and Integration
Data migration and integration pose particular challenges for many organizations. On the one hand, you don't necessarily want to migrate all your historical data since much of it may be irrelevant to your present purposes. On the other hand, separating the relevant data may pose logistical issues, especially if your new ERP requires tighter data editing than your company is used to. Data integration can also be tricky if you have different data types stored in incompatible formats or systems.
Many successful ERP implementation plans allocate substantial time to data migration and integration. For most effective data migration, you'll likely want to spend time trawling through legacy data, removing old accounts and resolving inaccuracies. For proper data integration, you may need to spend time editing your data for compatibility.
3. Change Management
At some point in the ERP implementation process, you may encounter internal resistance. A familiar and easy-to-use system may seem more appealing to employees than an unfamiliar ERP that will require training to master. In fact, 46% of chief information officers (CIOs) cite cultural issues rather than logistical ones as their organizations' most significant barriers to change.
For this reason, you'll need strategies for generating enthusiasm across your company if you want your ERP implementation to be successful. One effective strategy for increasing employees' openness to change is to supply sufficient training. Another is to ensure senior management buy-in. If executives and senior managers are on board and optimistic, their willingness to embrace change may trickle down to other employees.
If you have a foundational change management program already in place, you can lean heavily on its practices. You may also want to call in outside support from your vendor's implementation team, especially if the magnitude of the organizational change required will be substantial.
4. Hidden Costs and Overrun Costs
During one or another of the ERP implementation phases, you may discover costs you had failed to consider. Sometimes, those costs are so significant that they cause you to overrun your budget.
These hidden costs are challenging because they can make your ERP implementation project appear to be more of a liability than an asset at first. You might propose a budget for ERP planning and implementation but fail to consider the costs of change management and ongoing support, or you may budget for the implementation costs of a cloud-based ERP but fail to consider the regular subscription fees required. These oversights may leave executive managers wondering whether implementing a new ERP was the right idea after all.
One of the best ways to deal with hidden costs and overrun costs is to focus on rigorous budgetary planning before beginning any other ERP implementation phases. By being scrupulous in your consideration of where expenses may crop up, you can often avoid many surprises. You'll also want to keep in mind that the costs of a new ERP extend beyond the initial purchase to training and support.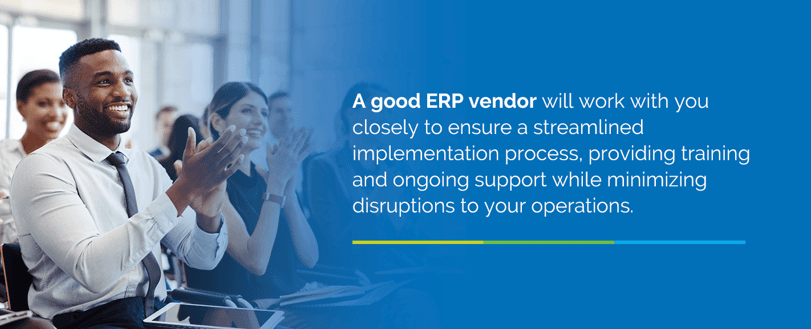 ERP Implementation Best Practices
Here are some ERP implementation best practices to help your ERP system planning and implementation process run smoothly:
Get buy-in from leadership: As we've discussed, senior management's support is crucial to ERP implementation success. Having at least one C-level sponsor often makes your path much more straightforward. Leadership support can make it easier to secure the funding you need and set an enthusiastic tone that many employees will likely follow.
Choose the right ERP vendor: ERP implementation best practices also include shopping around for a vendor. A good software vendor will work with you closely to ensure a streamlined ERP implementation process, providing training and ongoing support while minimizing disruptions to your operations. Different ERP vendors vary significantly in the level of support and customer service they provide, so you'll want to ask questions to figure out what partnership will work best for you.
Plan carefully and sufficiently: Planning is one of the most critical ERP implementation steps — it can often save you from unexpected challenges down the road. Be sure to think through all the features and functionalities your new ERP will need, make a realistic plan for how long implementation will take, and include all relevant costs in your budget to avoid surprises.
Manage expectations: Many teams worry that their ERP proposals won't gain enough support. Sometimes, though, the opposite challenge occurs — your organization expects too much from the new ERP system, and even minor hitches in an otherwise stellar rollout begin to seem disappointing. To avoid this issue, be sure to manage expectations by communicating clearly about challenges you may face and how you plan to resolve them.
Provide value support and training: Because the new system is likely to be complex and unfamiliar to your employees, quality, hands-on training is invaluable for helping them feel comfortable and boosting their investment in the ERP. You'll also want to provide ongoing support, ideally with your vendor's help, to enable your teams to get the most out of the new system.
Communicate: As in many business challenges, communication is key in your ERP implementation. Maintain open channels of dialogue among your team members from different departments, your executive sponsors and the employees who will use the ERP. Communicating well allows you to reduce ERP implementation risks by setting realistic expectations and offering genuine support to your colleagues.
Rely on testing: Even though you may feel rushed to get your new ERP live and functional, allocate enough time to test and work out bugs. This step will make the process much smoother and more efficient in the long run.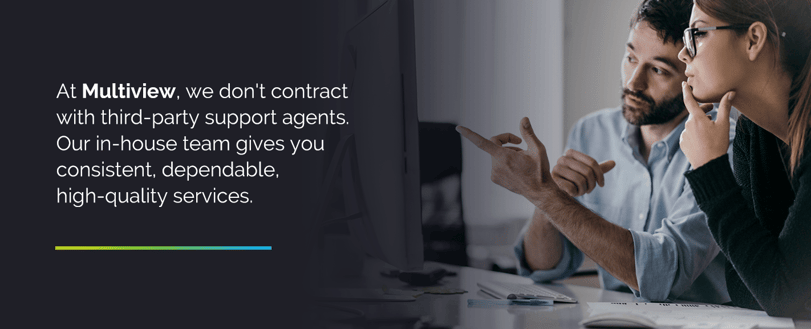 How Your ERP's Implementation Support Team Can Help
When you work with an ERP support team, you'll gain invaluable advantages during the ERP system implementation process. At Multiview Financial Software, our implementation support team sets itself apart from the competition by providing numerous support services and benefits:
An entirely in-house team: At Multiview, we don't contract with third-party support agents. Our in-house team gives you consistent, dependable, high-quality services.
Extensive industry experience: Our support team includes several accountants and enjoys the leadership of a former CFO. These team members lend their industry insight and expertise to conversations about how to implement an ERP system.
Consultative approach: We pride ourselves on our consultative, hands-on implementation support strategies. We have extended, collaborative discussions with our clients to ensure our Multiview Cloud ERP meets their needs.
Post-implementation support: Our support services don't end when implementation is complete. We also have a full in-house team dedicated to ongoing support, so you can ask questions and get help troubleshooting any challenges that arise.
Strong product knowledge: Our teams have trained extensively on Multiview software. They have encountered many of its nuances themselves and can draw on their experience to support clients.
Unlimited support: Many competing services offer only a limited number of calls or support hours per account. At Multiview, we will spend whatever time is necessary to get your ERP working the way you need it to.
Sustained client focus: Multiview is committed to moving the ERP software industry forward by taking a service-oriented, client-focused approach. We want you to get the most out of your ERP system and are more than happy to help you work through challenges along the way.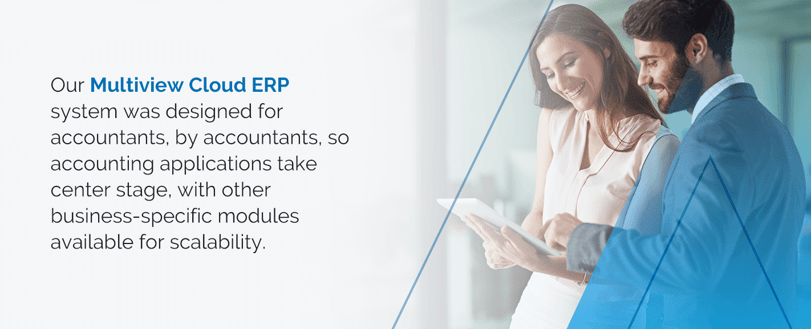 Seamless ERP Implementation With Multiview Financial Software
Now that you have a helpful ERP implementation process guide to rely on, it's time to get started. To gain a quality platform and unparalleled implementation support, contact Multiview for ERP software solutions.
Our Multiview Cloud ERP system was designed for accountants, by accountants, so accounting applications take center stage, with other business-specific modules available for scalability. We believe in taking care of people first, and our team of caring professionals is available to help with every step of implementation so you can get the most value from your new ERP software.
Set up a demo or contact us to learn more.