When choosing a new tool to your business, there is a lot to consider as you are investing time and money. Especially in an ERP financial solution, where you go through a very complex implementation process. You don't want to miss anything. Read here everything you need to know prior choosing your accounting software provider.
Businesses often find ERP software solutions for financial services that once worked fine to be insufficient for their day-to-day tasks. You may have outgrown your basic financial accounting software and need more functionality and financial integration with other systems. Or, you may have used a traditional finance enterprise solution (ERP platform) but found it wasn't fully optimized for your operational and support needs.
If you need a reliable, large-scale business financial management solution, consider investing in top-of-the-line ERP enterprise financial software. By switching to a more advanced ERP financial system with the features and capabilities you need, like approvals, real-time reporting, expense and inventory management, and barcoding scanning helps streamline your processes, make your workflow easier and add value overall to your business.
The guide below explains what ERP financial software can do, discusses the advantages of choosing the right ERP solution for your business and outlines what to look for in an enterprise financial planning software (ERP) solution.
What Is ERP Software?
An ERP system is software that allows your business to manage all aspects of its day-to-day operations, from accounting to project management to compliance. It undergoes continuous updates to provide real-time data to everyone in the business who has access to it.
They are also flexible and adaptable enough for use across a range of industries.
Why does an organization need ERP?
Just about every business has numerous functions and processes — customer service, financial services and inventory management, to name just a few. It needs a way to get those processes working together as an integrated solution. An ERP system makes that goal a reality. It provides a centralized repository for information that many different departments can use, plus a suite of advanced functionalities like budgeting and forecasting to make daily tasks easier.
How To Choose The Right ERP for Your Business
If you're in the market for business management solutions, you may be wondering how to select the right ERP solution for your company and what to look for in ERP financial software. The right ERP can make a tremendous difference in your organization's productivity, cohesion and success, so choosing ERP accounting software that meets your requirements is essential.
The market contains hundreds of different ERP solutions, though, so choosing the right ERP accounting system for your company may seem daunting at first.
The first thing you'll need to do when choosing accounting financial software is determine your company's particular business needs and requirements. It's worth taking some time to figure out your business's priorities and weigh different considerations to see how the pros and cons of various systems stack up against one another
Below, we will outline what to look for in an accounting ERP solution and some considerations and tips for how to select the right enterprise asset management software for your business.
Consideration 1: Software Functionalities and Features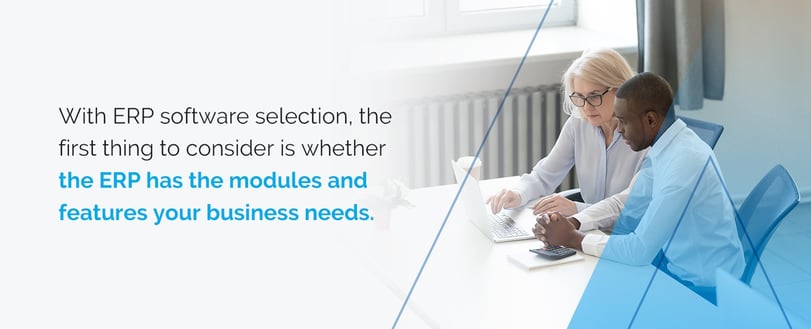 When choosing ERP accounting software, the first thing to consider is whether the ERP has the modules and features your business needs. Most enterprise financial planning software can do many things, so make sure the system you choose is optimized for the functionality you need such as budgeting and forecasting, approvals, real-time report for example. You want your ERP system's features to work for your business — you don't want to have to adapt your business practice to the ERP financial software's features.
If financial services are a strong priority, for instance, make sure the ERP system you choose has robust accounting process features like general ledger, accounts payable and accounts receivable modules. Additional modules for areas like inventory and supply chain management are nice to have, but only if the ERP software solution first meets your organization's critical needs.
Comparing different ERP systems' functionalities and features is one of the best ways to get a better idea of the return on investment (ROI) you'll receive from each one. This process helps you break down what the financial solution systems can do and what value they would add to your business.
Consideration 2: Integrations
When you're thinking about how to select the best ERP financial software, the next thing to consider is how well the enterprise resource planning (ERP) system integrates with other software solutions your business uses. The most advanced ERP accounting software on the planet won't help you if it can't send and receive business data to other software programs in your organization.
In fact, 59% of ERP buyers report that a need to boost data integration between different business processes is the reason why they're looking for something new.
In financial services, you might need access to different business financial reports to assist your accounting work. In that case, you'd need to ensure your ERP system worked with the specific programs used in other departments so you could access the necessary information.
Consideration 3: Vendor or Company Reputation and Expertise
When you're considering how to select an ERP financial system, you'll also want to examine the ERP company's reputation. Does the business have a strong reputation for quality and dependability, and does it have experience with your business's industry?
Before choosing ERP financial software, be sure to check online reviews to learn what other clients think of their experience with the software provider as well. An electric and gas company, for instance, would want to locate reviews indicating whether the ERP provider had the utilities industry knowledge and experience to help the business succeed. Providers specializing in retail supply chain management might not be the best fit in that particular case.
Consideration 4: Costs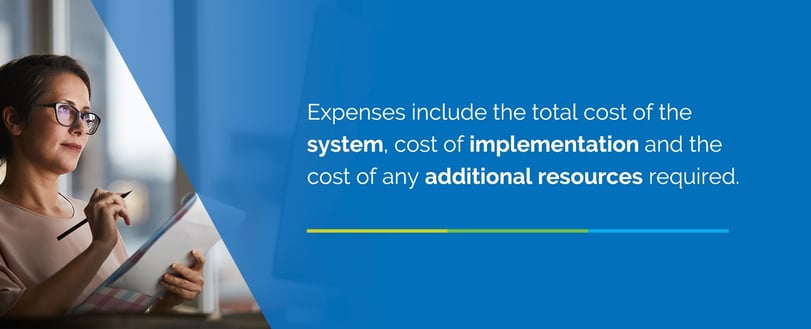 The ins and outs of choosing ERP accounting software also involve considering the associated expenses. These expenses include the total cost of the software, cost of implementation and the cost of any additional resources required.
Be sure to consider cost vs. value as you deliberate. A high cost doesn't necessarily imply a high value. If expensive ERP accounting software contains numerous features you won't use, its value for your business operations will be relatively low. A better bet is to make sure you're getting the most benefits and functionality for your investment.
Consideration 5: Implementation Process
When choosing ERP accounting software, think about the implementation process and what time investment it requires. The implementation time can vary depending on the features added, as well as what systems with which it will integrate. Some ERP financial systems are trickier and more time-consuming to implement because employees will need extensive training on the unfamiliar software as well as the number of tools it will need to be integrated with. You'll need to determine which ERPs will be easier for your organization to master and whether additional advantages would make a more drawn-out implementation worth it.
You should also find out what implementation support the software company offers. Some organizations provide training to guide and streamline your implementation — take advantage of such programs if you can as it can shorten the time your staff will need to learn, as well make them more efficient while adapting to the new software.
Consideration 6: The Future
In the future, your business will require ongoing support. You'll need to think about practical matters like the frequency of software upgrades and the challenges of integrating your ERP accounting software with potential new hardware or software. As you're assessing which ERP to choose, ask questions about software upgrades and support services to ensure your system will serve you well for many years.
You should also consider that if your company is successful, it will likely grow — potentially rapidly. Your ERP financial system will need to scale as well to continue offering comprehensive support. As you deliberate, ask questions about which software can grow with your company and bolster your expansion efforts.
Make Multiview Financial Software Your Trusted Source for ERP Solutions
Now you know a little more about what to look for in an ERP financial solution and how to select one for your business. You'll need to evaluate its software functionalities and features, integration capacities, vendor trustworthiness, costs, ease of implementation and potential convenience and scalability into the future. Multiview Financial Cloud ERP excels in all these areas.
Multiview Financial ERP is much more than traditional accounting software. It offers robust reporting with intercompany financial statements, dashboards, key performance indicators (KPIs) and data-warehouse interface reporting through our data and reporting engine. It acts as a single source of truth across all information sources in the company. It also has a unique implementation process and support structure to help streamline the transition, and it is fully scalable, designed for expanding small businesses and industry giants alike.
More than that, Multiview takes pride in putting people first and being client obsessed. Our knowledgeable and helpful teams are happy to work with you to explain features, answer questions and help make sure you get the best match for your business and its goals.
Contact us today to schedule a demo.