It's vital for finance healthcare professionals to stay abreast of what's happening in their industry, especially since events like COVID-19 have dramatically reshaped how healthcare is delivered on a global scale. Currently, even things like policy, which often moved at a snail's pace, can change in a matter of days.
There is also a nearly endless source of information out there for finance professionals to learn more about the current state of healthcare and healthcare finance. To help cut through the noise, we have curated a list of five online publications that cover news and trends of both internal and external issues.
Healthcare Information and Management Systems Society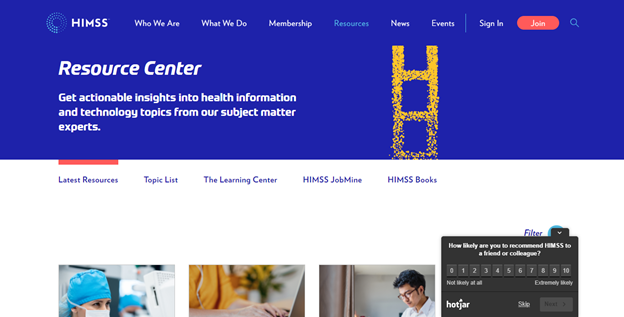 Also known as HIMSS, the association is committed to transforming the health ecosystem. They work with healthcare professionals to advise on best practices in a variety of areas such as health innovation, public policy, workforce development, research and analytics. Their membership includes over 100,000 individuals, spread across three continents, working in a variety of clinical and non-profit organizations.
The HIMSS resource center offers a wide array of content in a variety of formats. They cover high-level topics such as Population & Public Health, Workforce Development and Emerging Technologies.
Healthcare Finance News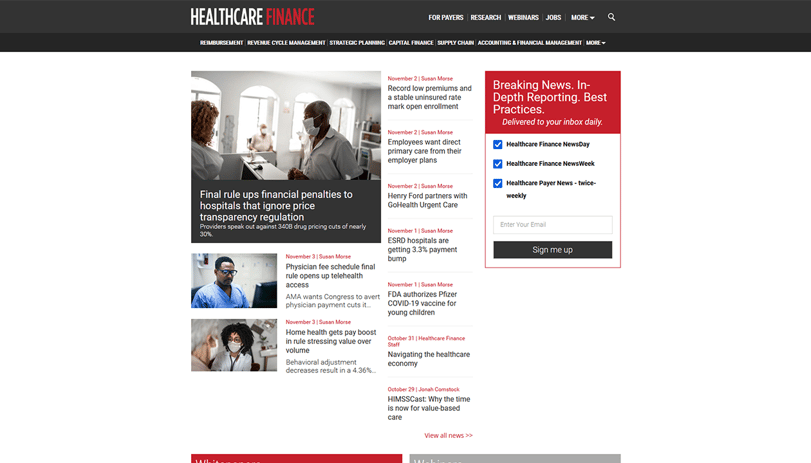 The online magazine is a top source for developments in the healthcare finance industry. They cover a balance of breaking news but also provide in-depth reporting and analysis of current events. New content is continually published, covering topics such as capital investments, reimbursements, quality and safety, physician relations, billing collections and data integrity. Recent articles include information on the FCC's COVID-19 telehealth funding announcement, new technologies assisting in a spike of vaccine requests after FDA approval and a report on how DNR orders are linked to increased death rates.
Becker's Hospital CFO Report
Becker's Healthcare is one of the primary sources of healthcare news. They have hundreds of thousands of followers on social media and every month, nearly three million people visit their websites. The Beckers's Hospital Review has a broad scope of coverage including news, analysis and strategic insights from various leaders in healthcare.
Their CFO Report covers a vast array of topics to support executives in their day-to-day. In addition to a continually updated blog, they offer whitepapers, webinars and have a popular podcast. Recent articles include a report on how a spike in unvaccinated COVID-19 hospitalizations has cost $2.3 Billion in two months, a Chicago hospital under investigation for misuse of charitable assets and a story on how accountable care organizations may raise costs, rather than lower them.
Healthcare Financial Management Association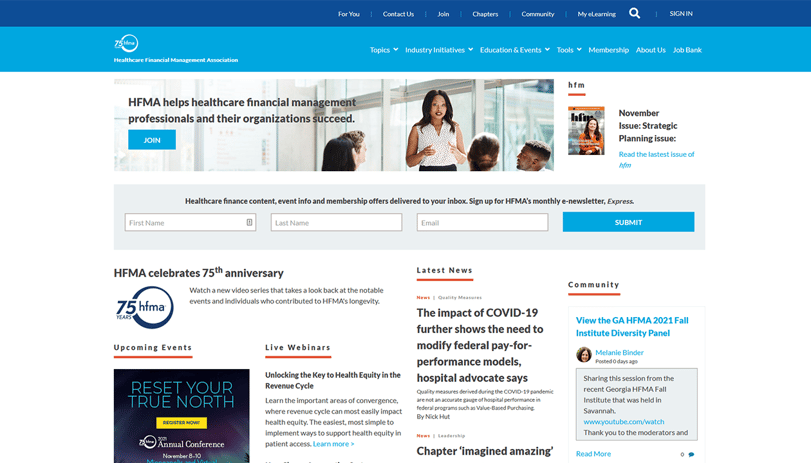 The Healthcare Financial Management Association (HFMA) provides its 71,000 members with practical tools, education, industry analyses, and strategic guidance needed to address the many challenges that exist within the US healthcare system. HFMA also works with other healthcare associations to ensure accurate representation of the healthcare finance profession.
Their blog is just the tip of the iceberg when it comes to the depth of their content library. They have peer-reviewed articles, detailed research, emerging trends and many certification programs. HFMA's published content covers topics very specific to the role of a healthcare finance professional such as financial sustainability, legal & regulatory compliance and payments, reimbursements & managed care.
Modern Healthcare News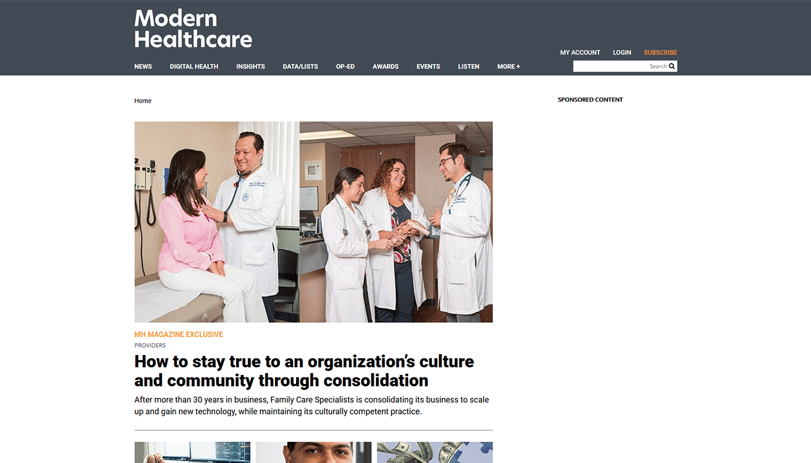 Considered to be a top source of information for healthcare executives, Modern Healthcare publishes articles focused on healthcare business, policy news, research and information. They also have podcasts, videos, run multiple events and offer awards. They cover all the stakeholders and issues which touch the industry such as the government, insurance companies, technology and finance.
---
There are many great healthcare finance blogs out there, and more being created every day. Above, we've shared our top suggestions that we think all healthcare finance professionals should follow to stay informed of what's happening in the industry. You can also check out Multiview's selection of healthcare finance-related blogs and download our eBook, The Future of Healthcare Finance.