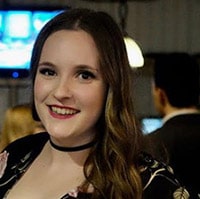 Welcome to our new Employee Spotlight series. Here at Multiview, we feel very fortunate to be surrounded every day by such amazing colleagues, each possessing a diversity of skills and expertise. We want to highlight them.
So over the course of 2020, our 30th year as a software company, you will be learning about our Multiview Family; from Support, Implementation, Development, QA, Sales and lots more.
We see ourselves not as a technology company, but as a people company.
And so, the first of our Employee Spotlight series: our very own Laura Walker, Financial Support Analyst.
What is a Financial Support Analyst at Multiview?
I help clients with questions or problems that they have – it ranges from being a system technical error to financial reports not aligning correctly. I would say we are Professional Problem Solvers who are contiguously looking at new issues and solving them for our clients.
What is a typical day in your role?
On a typical day, we're on calls with clients working through their tickets. We schedule meetings with them to get a better understanding of what the issue is and then from there we investigate, test errors, and gather more information until we can resolve the issue. Each issue varies and are not always the same. I'm always engaging people around me for help, from my Support team, Resource, Development, or Implementation – it takes a village!
What skills have your learned from this role?
The two biggest skills that I've learned are time management and problem solving. When you are working with multiple clients on different issues and want to ensure that each and everyone one feels like they're a priority, you need to make sure you manage your time properly. I communicate what I'm working on and always looking for new ways to resolve client issues; improved ways to use the system, leveraging internal networks, doing research through trial and error – whatever it takes. Our clients are pretty amazing and understanding as long as they know that we're trying our best and keeping them up to date with the progress.
What do you love most about your role?
I love the clients and my team. What I love the most is talking to them all day and working with a supportive team. We face a lot of complex situations and they (clients and my team) make it enjoyable. I love getting to know the clients, they're all very different and so much fun to talk to.
What's your favourite Multiview Moment?
The Multiview Golf Tournament, our Christmas party, whenever Support gets together for beer, and of course, IMUG last year!
Meet Laura Walker, Financial Support Analyst at Multiview
Laura is a graduate from the International Business program at Carleton University. During university she had the opportunity to learn German and study at the University of Mannheim, which is one of Germanys highest ranked Business schools. She joined the Multiview team in April 2019 as a Financial Support Specialist and has been a tremendous addition to the team!
Outside of work you can catch her Stage Managing Theatre productions all over the Ottawa theatre community. In the last 6 years she has worked on roughly 15 theatre productions; highlights being Cabaret, Chicago, and Sister Act. She is currently working on her apprenticeship for Stage Managing with Orpheus Community Theatre for Rock of Ages which will allow her to Stage Manage professionally on the side.
Fun Facts: Speaks 3 languages (poorly), Played basketball against the Harlem Ambassadors as the only high school student chosen on town team, VP of Finances for 2 Theatre Clubs at Carleton University, and travelled 4 of the continents!