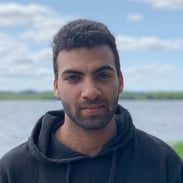 Welcome back to our Employee Spotlight series. Here at Multiview, we feel very fortunate to be surrounded every day by such amazing colleagues, each possessing a diversity of skills and expertise. We want to highlight them.
So over the course of 2020, our 30th year as a software company, you will be learning about our Multiview Family; from Support, Implementation, Development, QA, Sales and lots more.
We see ourselves not as a technology company, but as a people company.
The second of our Employee Spotlight series focuses on our very own Alaa Gergawy, Sales Development Representative.
What is a Sales Development Representative at Multiview Financial Software?
Essentially our team manages the inbound and outbound lead generation for the company.
What that means is that we get to talk to prospects with their evaluation requirement when looking for a new ERP; helping to define their needs and their challenges, and then we can build and share insights about the features and benefits of Multiview Financials.
What is a typical day in your role?
A typical day for an SDR involves managing inbound leads, connecting with prospects and communicating Multiview Financial Software as a solution to improve their financial environment.
Treat every prospect as a unique opportunity; we're not like some of the larger players in our space; we work with the prospect to find the most relevant insights based on their needs, requirements and growth of their organization.
I look at it like this: I am not selling; I am educating customers on the ways that Multiview's software can help solve their problems. I do the research for the prospect in order for them to understand the mission and vision of Multiview. Can we help solve their financial processes? Can we help them improve the current status quo?
What skills have you learned from this role?
I have learned a lot about discipline, decision-making and communication. As an SDR —dealing with different/unique prospects requires focus and attention; I have to be quick on my feet and be able to provide the necessary information to clients quickly and concisely.
What do you love most about your role?
The responsibility of establishing and communicating Multiview's place in the market. SDRs are the first to connect with potential clients, and I am passionate about creating the best experience and relationships that leaves prospects with the best impression of Multiview Financial's software, regardless of the sales outcome.
What's your favorite Multiview Moment?
Our quarterly SDR Summits, the 2019 Christmas Party, and of course… Soccer Fridays!
About Alaa Gergawy, Sales Development Representative at Multiview
Alaa is a graduate from the Business Administration; Marketing specialty in Algonquin College. He's had the opportunity to work with many different small businesses in Ottawa while completing his school work. These projects helped Alaa develop the skills and experiences that are applicable to validate a brand's new messaging while simultaneously shrinking the sales funnel. He joined Multiview in May 2019 and is excited to be here everyday.
Fun Facts:
Alaa moved to a whole new continent on his own when he was 16 years old. It was a bit frightening at first but also the best decision a 16 year old can make.
He plays Soccer 4 times a week, it's just a great way to unwind and remove yourself from the day-to-day.
He has a motorcycle license. He's never used or owned a motorcycle but thought it would be fun to learn something new.
He's allergic to Avocados, which is not exactly a fun fact. But he can make an amazing salad!