In a fast-paced and growth-oriented company, you need more than basic accounting software. You need enhanced functionality, seamless integration with other systems and features you can adapt to your changing business needs, no matter what the future holds.
As you strategize about moving your company confidently into the unknown, a cloud enterprise resource planning (ERP) solution can make all the difference. This guide will explore how to future-proof your business overall and some specific ways an ERP solution can future-proof your business.
What Is Future-Proofing in Business?
What is future-proofing, and why do you need to future-proof your business?
Future-proofing is the strategy of anticipating the future and enabling your business to adapt to and flourish in that yet-to-arrive business environment. It helps minimize the adverse effects of future events by putting systems in place that help you adapt to future challenges and mitigate future stresses.
How to Future-Proof Your Business
What are some ways to future-proof your business? As your company strives to lay the groundwork for continued success, you can improve your chances by developing a multi-pronged future-proofing strategy. That way, you'll be able to approach future issues from multiple angles and have the best chance of overcoming challenges.
One of the first objectives of future-proofing is often to improve your business's financial stability. By shoring up company finances, you strengthen your ability to meet and adapt to challenges. For instance, if you lose an important client or see new competitors in the market, you can weather these challenges more easily if your balance sheet is already strong. You'll have financial reserves to fall back on as you adjust your strategies, so you won't be left scrambling to save your business.
Many businesses also strive to put advanced structural supports and processes in place. If you have protocols ready to help you meet various challenges, you stand a better chance of getting through them successfully. As your company prepares for the future, you may want to invest in formal analyses of your processes to learn more about your strengths and weaknesses. You can then capitalize on your strengths and invest in training, support or software solutions that help you support your weaker areas.
You may also want to develop and implement concrete action plans that outline exact steps your company will take in response to future events. For instance, you might lay out step-by-step procedures for what to do if you face a product recall, or if you expand your business to a new country or if a sudden surge in demand for your products or services outstrips your ability to provide them.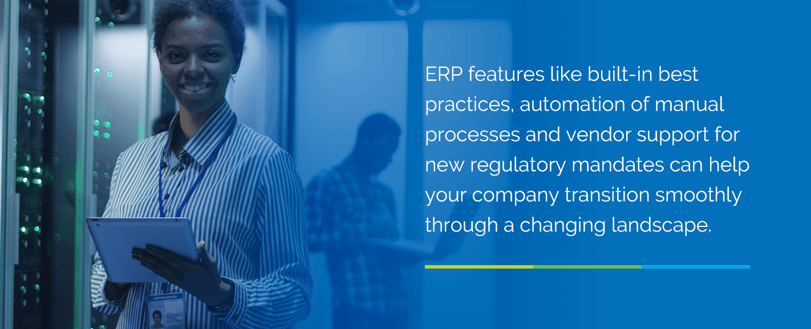 How Your ERP Solution Can Help
As you develop strategies for ensuring your company's long-term viability, your ERP solution can play a critical role. ERP features like built-in best practices, automation of manual processes and vendor support for new regulatory mandates can help your company transition smoothly through a changing landscape.
Your ERP can also support your future-proofing strategies through its cloud-based operations. Stand-alone ERP systems tend to depend on complicated hardware and licensing, so they often accommodate only a few users. Cloud platforms give companies much more flexibility and opportunity for growth. They work on any combination of laptops, desktops and tablets, so adding new team members on various devices is easy.
Cloud platforms also tend to be versatile, with software that adapts easily to updates and changes. They include robust security — in fact, 94% of small businesses report security improvements after migrating to the cloud. Therefore, cloud platforms can support growth and change while offering protection against future threats.
What to Look for in a Future-Proof ERP
What is a future-proof ERP? As you turn to an ERP to help future-proof your business, be sure it has a few key features and capabilities:
A complete package: The best ERP systems offer comprehensive solutions to the challenges your company faces. They help you avoid trying to cobble together solutions from multiple, sometimes incompatible, vendors. A quality system should incorporate standardized best practices and include applications for planning, budgeting, purchasing, procurement and financial operations that all use the same data models.
A modern integration strategy: A quality ERP solution should seamlessly connect and communicate with the other systems your company relies on. You'll be able to keep everyone in your business on the same page and working together, extend your business capabilities more readily and find it easier to pursue new avenues for growth. Be sure your ERP has a design and capabilities optimized for integrating with your other business systems and enabling collaboration across teams.
Scalability: You need your ERP system to scale with your business, growing and adapting as you do. Be sure to choose a solution designed to work just as well if your company expands to cover new markets, teams and products as it does when your business has a more modest scope.
Real-time data and analysis: People across your company should be able to turn to your ERP solution for reliable, up-to-date data and insights. The software should provide access to the latest data analysis and visualizations for use in reports, reviews and key progress indicator (KPI) assessments.
Robust security: Be sure you choose an ERP with the highest levels of security to keep your organization's sensitive financial data and client data private. You'll likely want to choose a solution that has demonstrated compliance with security regulations and best practices and can provide identity management, continuous backups, and timely patch and software updates.
Multiview's ERP
At Multiview, we pride ourselves on how well our ERP system works to future-proof each business that uses it. Our ERP solution is software built for accountants, by accountants — and it's also so much more than software.
Our ERP system provides robust reporting capabilities, dashboards, KPIs, intercompany financial statements and data-warehouse interface reporting through our data and reporting engine. It can serve as a single source of truth across all company information sources. Accounting applications take center stage, with other business-specific modules available for convenience and scalability.
Consider the suite of specific benefits it provides:
Core ERP modules: Our software's core ERP modules come as a fully managed cloud application. You'll gain dedicated modules for your general ledger, business intelligence, accounts payable, accounts receivable, budgeting and forecasting, and fixed asset management. They give you the tools you need to leverage your data effectively and gain the insights needed for high performance and growth.
Security and compliance: Our ERP solution uses secure cloud infrastructure to provide complete isolation of each customer's data. It also undergoes rigorous third-party vulnerability testing, so we can address any security weaknesses identified before they become serious issues. We also provide frequent server monitoring, patching, application upgrades and tests of the data restoration process.
Integration and scalability: Multiview's Cloud ERP software integrates seamlessly with other business systems, allowing for easy data access for authorized users and promoting collaboration across teams. It works equally well for rapidly expanding small businesses, medium businesses and large enterprises. It is flexible enough to grow with your company and adapt to new challenges you encounter on the way.
A personal touch: At Multiview, we care about people above all, and we are happy to help you tailor your ERP solution to your company's unique needs. Our friendly, experienced and highly trained business representatives provide unlimited support for your system.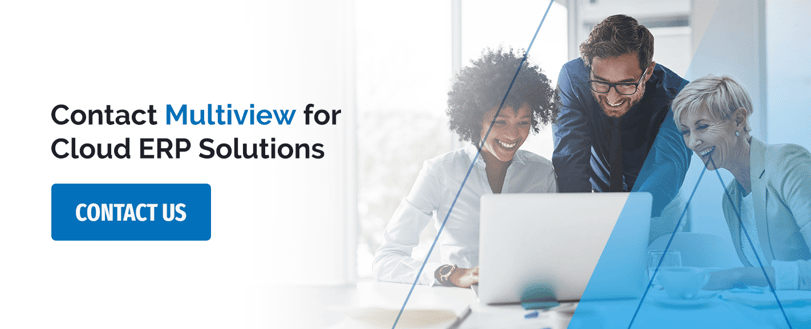 Contact Multiview for Cloud ERP Solutions
To see the benefits of quality ERP software in your strategies for future-proofing your business, partner with Multiview. Multiview Cloud ERP offers much more than standard software capabilities — it enables you to align and coordinate various areas of your company, and it gives you the tools you need to face unknown challenges with confidence.
Request a demo today, or contact us to learn more about our ERP solution.